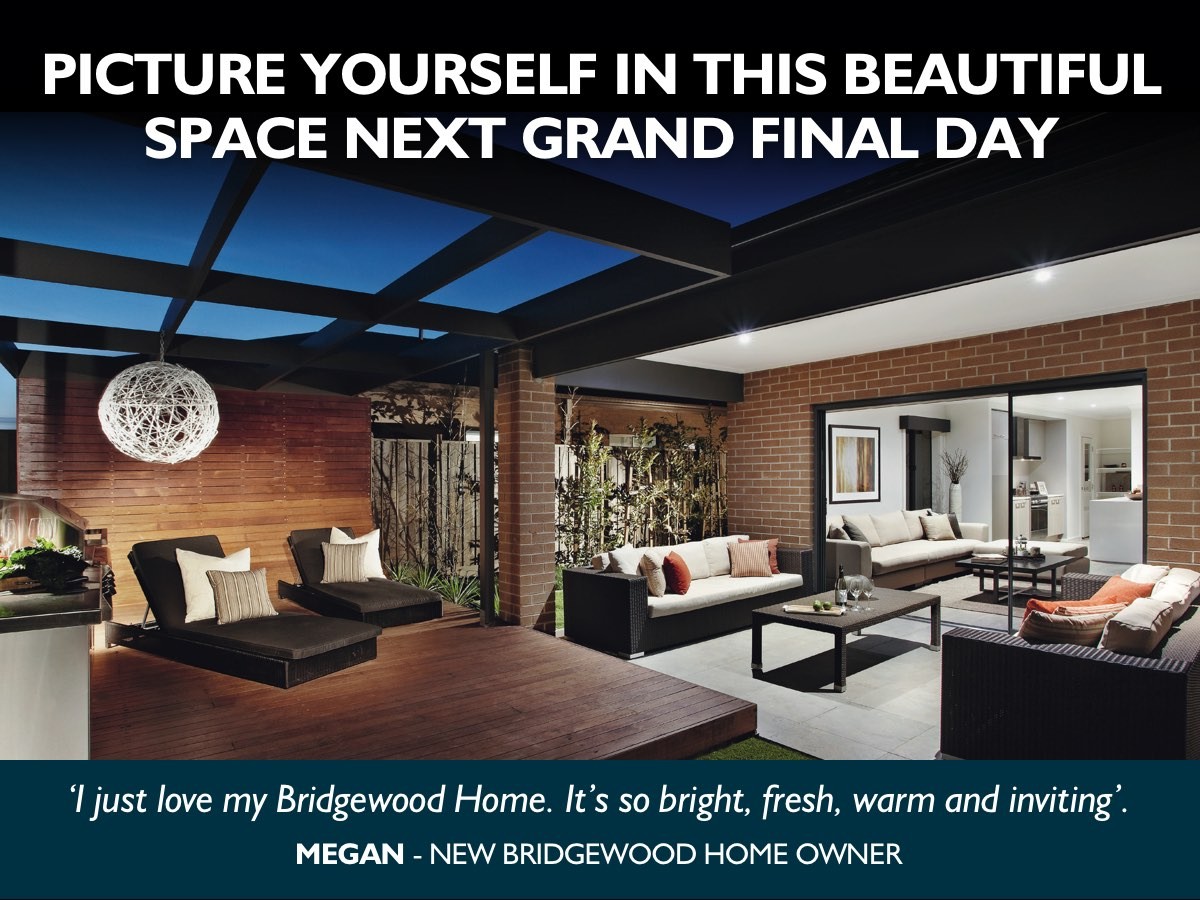 Picture yourself in this beautiful space next grand final day
Can you picture yourself in one of our beautiful Bridgewood Homes next Grand Final Day?
New Bridgewood homeowner, Megan says, "I just love my Bridgewood home. It's so bright, fresh, warm and inviting."
Megan had never heard of Bridgewood Homes before a friend referred her to us. Her first impression when she met with us on site became a key factor in her choosing to build her home with us. Megan said her initial experience was "enjoyable and I didn't feel any undue pressure to proceed in building my home with Bridgewood Homes, like I had come across with other builders." Our range of inclusions were another key factor in her choosing to build with us, as well as our plans being suitable to her block and within her budget.
Megan said: "Bridgewood provided a plan that met all of my requirements in terms of layout, functionality and the number of bedrooms and living spaces, and it was in budget. The team was very accommodating with any plan changes and selections I had, both before and during the build, and I always found responses to my requests very prompt. I enjoyed working with Jacob on the design and selections, and with building supervisor, Alastair.
"I wasn't entirely sure what to expect in the beginning as I was a first home buyer building my own home. I was very specific in my design brief – I wanted my home to be comfortable and to be a place where my fiancé and I can happily live until we want to upsize.
"We have now moved in and I just love it. It's so bright, fresh, warm and inviting. I am now referring all of my friends to Bridgewood Homes."
To us, building a home is a responsibility and a privilege that we don't take lightly and it was a pleasure to work with Megan, just like all our clients.

To find out more call Jacob Bell-Chambers on 0423 028 655 or email Bridgewood Homes.
Don't forget to catch the 2016 AFL Grand Final featuring Sydney Swans vs. Western Bulldogs this Saturday, October 1st, starting at 2:30pm. UK Rocker, Sting will join Aussie singer-songwriter Vance Joy and homegrown rockers The Living End as the entertainment with pre-game coverage.
If you're an NRL fan, don't miss the NRL Grand Final featuring Cronulla-Sutherland Sharks vs. Melbourne Storm this Sunday, October 2nd, with kick off at 7:15pm. Pre-game coverage and entertainment will start on Channel Nine from 6:30pm.